Flags of Humanity
We asked people from around the world to design a flag to represent humanity, considering what unites us as a species, and if there are any universal symbols or values that we all share. We reproduced a selection of submissions for exhibition at the OXO bargehouse.

Through these flags we can observe a variety of perspectives on humankind, and perhaps imagine a united and borderless human future.
Flags in exhibition space

'Flags of Humanity' is a workshop & community design project created by myself and Lucy Llorente.

The workshop is written in accessible language for an all-ages audience. We lead the designers through the importance and meanings of flags, then showed them a variety of design approaches to encourage free experimentation. Whilst the workshop can be navigated without guidance, we also ran it over zoom.

Through this exercise we wanted to encourage empathy and collectivist thinking rather than individualist ideas of humanity.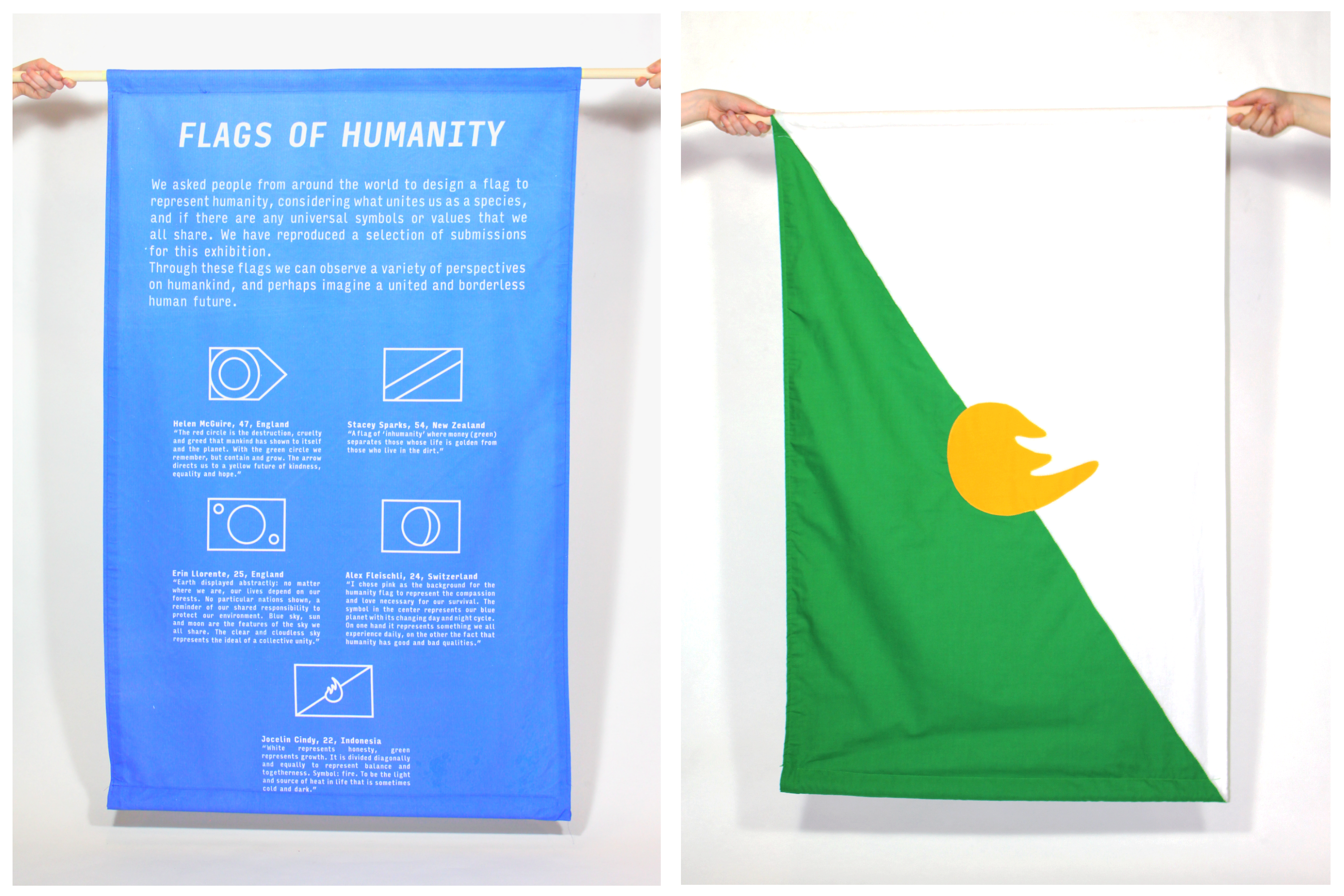 Flag Designs: June 2021



Jocelin, 22, Indonesia "White represents honesty, green represents growth. It is divided diagonally and equally to represent balance and togetherness. Symbol: fire. To be the light and source of heat in life that is sometimes cold and dark."


Erin, 25, England "Earth displayed abstractly: no matter where we are, our lives depend on our forests. No particular nations shown, a reminder of our shared responsibility to protect our environment. Blue sky, sun and moon are the features of the sky we all share. The clear and cloudless sky represents the ideal of a collective unity."

Alex, 24, Switzerland "I chose pink as the background for the humanity flag to represent the compassion and love necessary for our survival. The symbol in the center represents our blue planet with its changing day and night cycle. On one hand it represents something we all experience daily, on the other the fact that humanity has good and bad qualities."

Stacey, 53, New Zealand "A flag of 'inhumanity' where money (green) separates those whose life is golden from those who live in the dirt."

Helen, 47, England "The red circle is the destruction, cruelty and greed that mankind has shown to itself and the planet. With the green circle we remember, but contain and grow. The arrow directs us to a yellow future of kindness, equality and hope."




This project is ongoing and our flag design workshop remains open for submissions.

Workshop link

sendusyourflags@gmail.com




Previous Submissions: